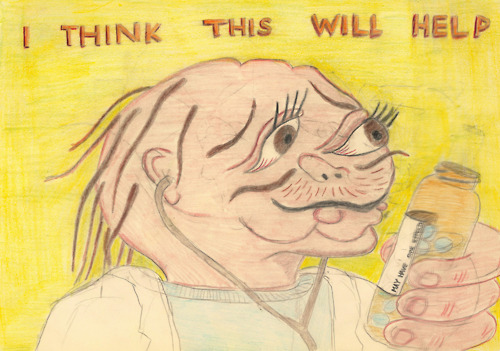 LUMPY LAND
KATE FERENCZ, NICK PAYNE, JENNIFER SULLIVAN, SOPHIE WHITE
OCTOBER 4 - 22 2012

OPENING RECEPTION:
Thursday October 4th, 6-11PM
A couple months ago I had this idea that I was going to curate a group show with some artists I like who all make these fairly straightforward, photorealistic drawings and rococo-style ceramic figurines. When I was in the process of picking up all the work from everyone I guess it was a little bit more than I could realistically carry, and then this crazy windy storm came out of nowhere, and in my befuddled clumsiness I dropped everything and all of the work landed in this gross puddle. When I got home and began to sort through the work to figure out what could be salvaged I realized that it must have been some kind of magical puddle, maybe even some a portal to another dimension, because now everything in the show looks kinda warped, saggy, wrinkly, brightly colored and generally more confusing than it was before. I don't know how I'm gonna tell the artists, I've sort of just been hoping that they wont notice. Do you think they will?
-Kate Ferencz
INSTALLATION PHOTOS: